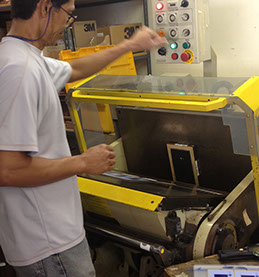 Whether we're cutting aluminum, Lexan, or mylar, Graphics Unlimited has developed a history of designing and manufacturing unusual requests in order to solve our customer needs. Gaskets, templates, windows, overlays, antennas, filter material, and cover shields are among the many products we have produced.
We have a flexible capacity to provide small quantities for prototyping needs to higher production volumes.
Our market experience extends to the Medical Device, Electronics, Aerospace, Semiconductor, Telecommunications, Industrial, Consumer, Automotive, Computer, and other device industries.
We provide a turnkey service with a unique skill set that encompasses all aspects of Gasket manufacture including Purchase of the raw material, Die Cutting to the customer's drawing, Gluing and tape, Stripping, Assembly, Inventory holding, Bag, and Tag, Box, and ship.
With more than 25 years of experience in the manufacture of Plastic, Rubber, and Paper Custom Gaskets.
We work in all materials including but not limited to:
Neoprene / Buna N/Nitrile / Butyl / EPDM rubber / Polycarbonate – Lexan™ / Silicone – Bisco™
Viton / Cork / Sponge / Foam / Urethane – Poron™ / Plastic shim / Fibers / PETG plastic
We can cut most flat shapes and designs. Typical tolerances for dimensionally stable materials:
<5" +/- 0.005 & 5"-12" +/- 0.010 & <12" +/- 0.015